Everyone reconnected
All homes affected by Storm Eunice and Storm Franklin have been reconnected.
Spotted a downed power line or network damage?
Stay well clear
Call 105 to report it for free
If there is an immediate risk to life, dial 999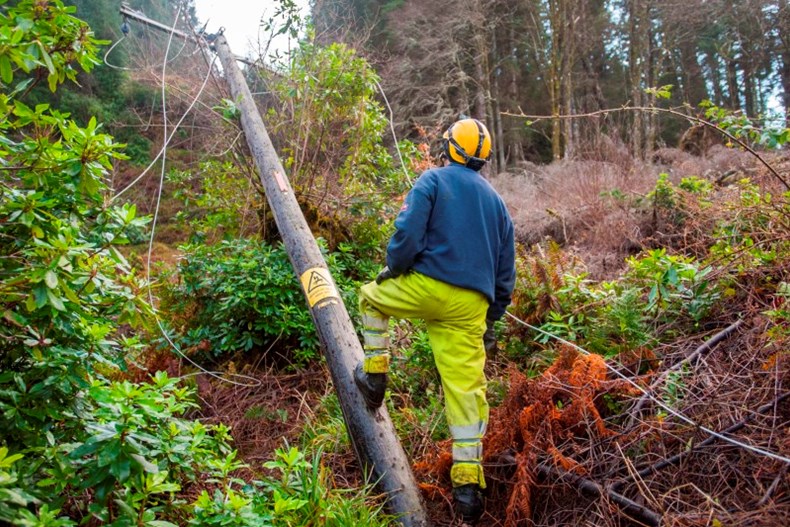 Information for customers
What should I do if there's a power cut?
Switch off. Switch off all electrical appliances that shouldn't be left unattended, ready for when the power comes back on.
Leave on. Leave a light on so you know when the power cut has been fixed.
Check. Check to see if your neighbours are safe and if they have a power cut too. If they have power, your trip switch may have activated.
Wrap up. If it's cold, wrap up warm and close internal doors to keep the heat in.
Contact. Contact your network operator to report the power cut. Your network operator is different from your energy supplier. Find out who your local network operator is using our who's my network operator? tool.
What if I need extra help in a power cut?
If your medical or personal circumstances mean you might need extra help, the energy networks can support you. You should consider becoming a Priority Services Member. It's free to join. If you are a member and experience a power cut, your power supply may not be restored quicker but your energy company can offer you additional services. This could be regular updates, alternative heating and cooking facilities, or alternative accommodation. You would also get advanced notice of any planned power cuts.
If your power has gone out and you are not a Priority Services Member but need help, you should speak to your network operator now to let them know.
Compensation
You are entitled to compensation if you have been without power for a prolonged period of time. You can claim:
£70 as a domestic customer
£70 as a non-domestic customer
if the power was off for 24 hours (Storm Category 1) or 48 hours (Storm Category 2). Ofgem checks and verifies storm categories. You can get a further £70 for each additional 12 hours of being without power, up to a total of £700.
How to apply for compensation
You can apply for compensation by contacting your local network operator. They are different to your energy supplier. It is best to do this by email where possible. Enter your postcode to find out who your electricity network operator is.
Who are the energy networks? Who is Energy Networks Association?
The energy networks deliver electricity and gas to your home. They are managed by energy network operators. These companies manage and maintain energy supplies. These companies are entirely separate to your energy supplier which is the company that bills you for using electricity and gas.
Energy Networks Association is the industry body representing energy network operators in the UK and Ireland. During storms resulting in disruption to power supplies we help communicate what's happening across the country.
What do you do when the power goes out?
Every day of the year there are thousands of people working behind the scenes to keep the UK's lights on. Watch the video below to get a glimpse into the vast array of roles that people carry out within the electricity networks on a daily basis.
Who looks after the energy infrastructure in your area